In Kamihime Project, some status effects have a hidden "frame" type (A, B, C, Stacking or Summon) which will determine if an effect can "stack" together (i.e., be active at the same time). Abilities of differing frames will stack, whereas abilities of the same frame will not stack. Status effects of the same frame will overwrite each other if the potency of the new effect is the same or higher than the original one, otherwise the effect will result in a "Miss".
Only abilities that affect characters' stat values (e.g.,

ATK↑ or
DEF↓) have this hidden frame type. Other effects such as "Damage Over Time" or "Crowd Control" abilities will not stack with effects of the same type.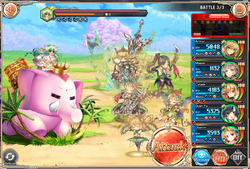 The image on the right shows an example of buff and debuff stacking:
The enemy has three stacks of ATK↓.

Oberon's "Wind of the Fairy King+" (A Frame -15%)
Cybele's "Mistletoe Drain+" (B Frame -15%)
Yatagarasu's "Black Raven's Flame" (Summon Frame -10%)
It is also worth noting that Cybele has two stacks of

ATK↑, one from her own skill "Mater Idea+" (B Frame +10%) and one from Arthur's "Avalon's Guidance" (A Frame +20%).
In the example provided Guan Yu also possess an ability capable of raising the party attack power, however since it is the same frame (A) it will not stack with Arthur's buff. As Guan Yu's ATK buff has a smaller potency in comparison to Arthur's buff (+15% vs +20%) the buff will result in a "Miss" if activated. For this reason it is advisable to wait for Arthur's buff to wear off before using Guan Yu's.
Abilities page is currently in the process of being updated, so please be patient as some will be missing for now.
Other frames
Stacking
Counterattack
(Based on HP lost)
Vigor
(Based on total HP)
Special Attack
Normal Attack
Souls
Charlemagne
Raging Invasion
20%/Stack
(Max. 5)
Self
Parashurama
Parla Yodin
20~120%
Self
Parashurama
Parla Shaera
50,4%
Self
Parashurama
Kar Shas
8%/Stack
(Max. 5)
Self
Parashurama
Kar Vega
25%
Self
Romulus
Trance Counter
20%/Stack
(Max. 3)
Self
Paracelsus
Blood Seize
0~120%
All allies
Arthur
High Spirit
50%
Self
Paracelsus
Archane Alchemy
25,4%
All allies

Fire
(Summer's Bloom) Metatron
Add Gun Powder+
15%/Stack
(Max. 5)
Self
Agni
Rage
10~80%
Self
Phaleg
Zoilos Periergia
14%
All allies
Kagutsuchi
Crimson Eruption
10%/Stack
(Max. 5)
Self
Rakshasa
Nirvana
10~80%
Self
Vahagn
Amazing Roar
50,4%
Self
Svarog
Sun Spread
10%/Stack
(Max. 3)
All allies
Iwanaga-Hime
Fire Dragon Rockmakers
5 - ??%
All allies
(Passion Healing) Dian Cecht
Lawful Doping
35,5%
All allies
Svarog (Awakened)
Sun Spread+
10%/Stack
(Max. 4)
All allies
Shuttle Bubble Hammer
Burst Effect
5 - ??%
Self
(Mild Flower) Flora
Cheer Up Scent
??%
All allies
(Enthusiast Lover) Uzume
Broken Helm Divided
10%/Stack
(Max. ?)
Random ally
Amane Suou
Light Trap
??-??%
Self
Haruhi Suzumiya
Uplifting
15%/Stack
(Max. 5)
All Allies

Water
Apsara
Nymph's Dance
8%/Stack
(Max. 3)
Self
(Ephemeral Moon) Diana
Desperate Destruction
25.3%
All Allies
Asherah (Awakened)
Tio Eschaton
10%
All allies
Sachi Komine
Secret Skirt
??%
Self
(Sweet Refreshment) Freja
Intensifie appeal
10%/Stack
(Max. 5)
Self and one ally
(Shadow on Ice) Chernobog
Black Cat Calling Disasters
20%
Self
Sachi Komine
Flasher Shark
20%/Stack
(Max. 3)
Self
(Refreshing Dessert) Apep
Hyped-up
3%/Stack
(Max. ∞)
Self
(Azure Controller) Amanor
Little by Little
10%/Stack
(Max. 3)
Self

Wind
(Jade Horn Disciple) Nephthys
Stiff Resolve+
20%/Stack
(Max. 5)
Self
Odin
Gaugin Lars
30~100%
Self
Isis
Tactical Switch+
20%
All allies
Cu Chulainn (Awakened)
Deil Clis
10%/stack


(Max. 10)
Self

Gefjon
Spinning Drill
15%
Self
Stribog
Barrage Command
??%/stack
(Max: 4)
Self
Odin (Awakened)
Gagunras+
30~100%
Self
(Flower Wind Ceremony) Phoibe
Bliss Allot
10.25%
Self/All allies
(Blissing Fragrance) Anahit
Deauch Treat
5%/stack
(Max. 6)
Self
Gungnir
Burst Effect+
??~??%
Self
Hastur (Awakened)
Lux Aldebaran
20%/stack
(max. 3)
All allies
Hanuman
Aggressive Screw
10~110%
All allies

Thunder
Chou'un (Sei)
Progressive Lightning +
10%/Stack
(Max: 5)
Self
Athena
Pallas Eleos+
20~??%
Self
(Lovely Feather) Aphrodite
Elevation Makeup
34,6%
All allies
Liber
Drink Liquor
??~??%
Self
Thor (Awakened)
Megingjord+
10~80%
Self
Brahma (Awakened)
Trimurti Shot
100%
Self
Ninurta
Seizing Bout
??~??%
Self

Light
(Dancing Shrine Maiden) Nike
Charm Assistance+
20%/Stack
(Max. 6)
All allies
Shamash
Rexa Pride
20~80%
Self
Atum
Reclaim Photo
50%
One ally
Durga
Ferrox Draw II
40%
Random Ally
Sukunahikona
Muscle Scaling+
12%/Stack
(Max. 6)
Self
Light Staff of Guilty Pride
Burst Effect
5~35%
Self
(Purifying Rod) Shiva
Spirit Arousal
35,5%
All allies
(Lightspeed) Hermod
Reindeer Rush
10%/Stack
(Max. 5)
Self
(Shining Corps King) Kingu
Shining Excitement
10~40%/Stack
(Max. 3)
Self
(Holy Fist) Tlaloc
Nature Absorb
20%
Self

Dark
Berith
Oaz Shoot
30%/Stack
(Max. 5)
Self
Berith
Delude Self
30~90%
Self
Erebus
Unleash Lamp
20%
All allies
(Dark Night Wedding) Gaia
Distortion Love
10%
Self
Thanatos (Awakened)
Hades' Direction
15%/Stack
(Max. 5)
All allies
Susanoo (Awakened)
Fury
25%/Stack
(Max. 5)
Self
Kali
Exult Combat
15~100%
Self
Sobek
Cruel Excite
10%
Self
(Imagine Slasher) Svarog
Idea Strengthening
20%
Self
Susanoo
Fury
10%/Stack
(Max. 3)
Self
(Love Cat in Black) Bastet
Nekoman donation
15~100%
All allies
Khonsu
Villain's Rampage
??%/Stack
(Max. 5)
Self
Khonsu
Evil Sacrifice
??-??%
Other allies

Phantom
Diabolos (Unleashed)
Feary Diva
10%
All allies
↑

Character frame, stacks with A frame ability damage buffs but not with itself.
Other Effects
↑

Saraswati increases her own and one allies' Burst Gauge by 30. If she chooses herself, then she will gain 60 Burst Gauge instead.

↑

Increases the effect by 5 after every use, caps at 15

↑

Allocates burst gauge, so she herself loses 45 burst gauge

↑

Only if count is 2 or less.

↑

Only if "Support" effect is active.

↑

Distributes excess Burst Gauge to all allies
Notes
Burst DMG buff has a hard cap of +500% and its damage has a soft cap 1.000.000 DMG, which can be increased up to 2.000.000.
↑

Only when not rampaging