Jurassic World: Dominion Dominates Fandom Wikis - The Loop
Play Sound
In Kamihime Project, some status effects have a hidden "frame" type (A, B, C, Stacking or Summon) which will determine if an effect can "stack" together (i.e., be active at the same time). Abilities of differing frames will stack, whereas abilities of the same frame will not stack. Status effects of the same frame will overwrite each other if the potency of the new effect is the same or higher than the original one, otherwise the effect will result in a "Miss".
Only abilities that affect characters' stat values (e.g.,

ATK↑ or
DEF↓) have this hidden frame type. Other effects such as "Damage Over Time" or "Crowd Control" abilities will not stack with effects of the same type.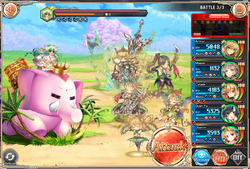 The image on the right shows an example of buff and debuff stacking:
The enemy has three stacks of ATK↓.

Oberon's "Wind of the Fairy King+" (A Frame -15%)
Cybele's "Mistletoe Drain+" (B Frame -15%)
Yatagarasu's "Black Raven's Flame" (Summon Frame -10%)
It is also worth noting that Cybele has two stacks of

ATK↑, one from her own skill "Mater Idea+" (B Frame +10%) and one from Arthur's "Avalon's Guidance" (A Frame +20%).
In the example provided Guan Yu also possess an ability capable of raising the party attack power, however since it is the same frame (A) it will not stack with Arthur's buff. As Guan Yu's ATK buff has a smaller potency in comparison to Arthur's buff (+15% vs +20%) the buff will result in a "Miss" if activated. For this reason it is advisable to wait for Arthur's buff to wear off before using Guan Yu's.
Abilities page is currently in the process of being updated, so please be patient as some will be missing for now.
↑

Character frame, stacks with A frame ability damage buffs but not with itself.
Other Effects
↑

Saraswati increases her own and one allies' Burst Gauge by 30. If she chooses herself, then she will gain 60 Burst Gauge instead.

↑

Increases the effect by 5 after every use, caps at 15

↑

Allocates burst gauge, so she herself loses 45 burst gauge

↑

Only if count is 2 or less.

↑

Only if "Support" effect is active.
Notes
Burst DMG buff has a hard cap of +500% and its damage has a soft cap 1.000.000 DMG, which can be increased up to 2.000.000.
↑

Only when not rampaging