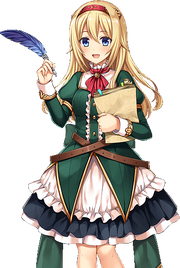 Bounty which is distributed through the Guild, will bring forth very strong enemies to be challenged through this permanent content. In the quest battle, Missions are included. When completed, will rewards the player with Point Rewards. In accordance with cumulated amount on mission points through the bounty period, various Reward can be obtained. Guild Order can be accessed from Rank 51 and above.
Guild Order is updated at a 2 weeks cycle period. The flow of a cycle is as follows.
Bounty, Mission, Point Rewards are updated.
(After a week passed)
Update of Missions
(After a week passed)
Rewards claiming period & Mission Points reset
(Return to 1 with a new period starting)
The enemy written on the Bounty can be challenged.
Quest battles can be attempted once per day.
While in a Quest Battle, elixirs cannot be used.
The content of Bounties will have its content updated on a 2 weeks basis.
After the content has been updated, the previous content will become unavailable.
Many Missions are included into a Quest Battle.
By completing missions, mission points are obtained.
Missions for a given Bounty are separated into two parts available for 1 week each, thus when a first week is over, the missions content are updated for its second half content.
Once mission contents are updated, the previous mission content becomes unavailable.
In accordance with the cumulative amount of mission points obtained during a bounty, Rewards can be claimed.
The content of Rewards is updated along with a Bounty update.
When Rewards get updated, the accumulated mission points is also reset,
Please be aware that, once Point Rewards are updated, previous rewards cannot be claimed.
Starting from Daily Missions and Guild Order rework (Around October 2020), Guild Order no longer gives Magic Jewel.
Mission
Points
Reward
Mission
Points
Reward
1
5 x Half Elixir
8
SSR Guild Order weapon,

depend on Element of the Quests

2
15 x Energy Seed
10
1 x Orichalcon
3
1 x Evolved Grimoire
12
2 x Evolved Grimoire
4
SSR Guild Order weapon,

depend on Element of the Quests

15
2 x Grimoire of Apotheosis
5
1 x Grimoire of Apotheosis
18
1 x Orichalcon
6
1 x Orichalcon
20
2 x Orichalcon
Community content is available under
CC-BY-SA
unless otherwise noted.